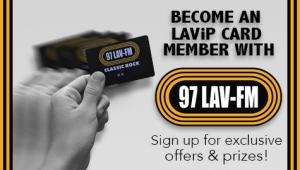 Do You Have Your LAViP Card?
Only our most loyal listeners have a LAViP Card, and now you can be one of them too!
LAViP Cards give you a chance to win prizes at our events!
They also let you into Celebration Cinema for the $5 Movie of the Week on Sundays and are a great way to show your dedication to LAV!
Showing your LAViP Card at the Chaffee Planetarium in the Grand Rapids Public Museum, you will receive $1 dollar off the show fee!
LAViP Cards can be made for free at any of our events that we have the prize machine at. Listen for when we will be out with our prize machine next and we can make you one!