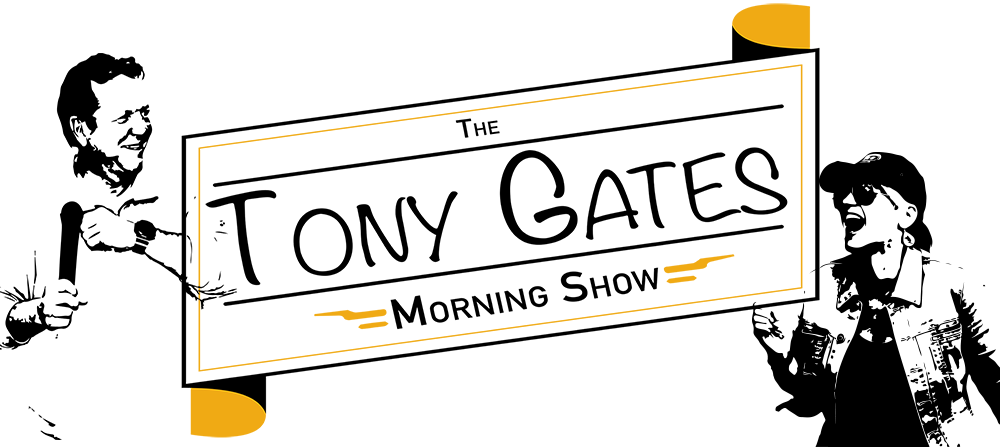 Ladies and Gentlemen… The Swinging Gates. Tony was first introduced to the glamour of local celebrity status during his time spent as the only male member of the tap dancing trio, "The Swinging Gates". Tensions mounted within the group when it became clear Tony was the most talented.

Tony starting out. Itching to get out of a small town, Tony left Litchfield, MI to experience college life at Grand Valley State University.

THE Tony Gates

Tony and Ed back in the day! Our very own, Ed Buchannan hired Tony back in the day… (Please direct all complaints his way.)

Before Producer Laura – Tony actually answered the phones! Not much else from this time period can be recalled by Tony… or any of the acquaintances he made.

These are his (awesome) Kids. Despite having Tony as a father, Keegan and Zak are both well adjusted, successful, and happy!

The Only B*tch in Tony's Life……is totally not a b*tch. This regal creature, Beau (Boo) is his best friend, hunting partner and the only lady in his life that doesn't give him grief!

He is an Avid Outdoorsman

What a catch!! ….The fish that is. He passes on his love and "knowledge" of the outdoors by making sure resources are available for kids to enjoy these activities.

This cute little boy….is actually MICHELLE! It was after this haircut that Michelle developed the tough skin to handle a career in radio.

Michelle started her radio career as Terri Traffic at CMU. Since then, she's been heard on both the East and West sides of the state

Hot Stuff! It is unclear how many engagements, marriages, and football teams Michelle has gone through… but it is obvious why they keep lining up.

BFF's! It was both a "dream come true" and a "nightmare realized" for Michelle when her and Tony joined together in the mornings on 97LAV in 2011.

Good Little Eater. Michelle has been promoted to the Vice President in Charge of Food here at Cumulus Grand Rapids.

…But has been banned from all eating competitions in the area, due to aggressive behavior.

The Beautiful Michelle…She also LOVES Madonna

She's a Heartbreaker

She has mastered the art of the selfie… Example #1

This is Michelle's other dog! Meet Ruby

Example #2

Example #3

Example #4

Meet Uncle Buck! This is a typical workday captured

Youg Mr. Ed Buchannan

Ed loves his Tigers!

BORN TO ROCK! He was spinnin' records before he even hit double digits.

BORN TO ROCK! Little Eddie displayed both the talent and passion for music early in life.

Not all who wander are lost…This is Ed at his first radio station in Big Rapids. He wandered into his college's studio and has been hiting the airwaves ever since.

He is a trend setter… Hipsters everywhere try to re-create the essence of Ed Buchannan.

#nofilter

Ed in his natural setting…

A true hipster Polack!

He naturally looks this good… A great deal of time and money is spent to emulate what Ed does effortlessly.

Seriously…This is Ed giving Frank Zappa a shirt and membership into his sports/fraternal organization… It was recently discovered that you can now buy a reproduction of this shirt online for $44.

An original on-air ace Ed was instrumental to the success of 97LAV back in the day. He was responsible for hiring some of the greatest LAV Air Aces… including Tony Gates. He continues to be the glue that holds the morning show together.

The Man, The Myth, The Legend…The Godfather.

 

 

 
Get your tax return filed before April 16. If you need additional time, file for an extension. However, you must pay the taxes due. Extensions allow more time to file, but you will incur interest and penalties if additional money is owed.
Tony Gates Morning Show Blog
Congratulations to our winner, Sue! She gets two round trip tickets to anywhere Allegiant flies as the winner! Thanks so much to everyone who participated. We're looking forward to making GET LUCKY bigger and better next year!