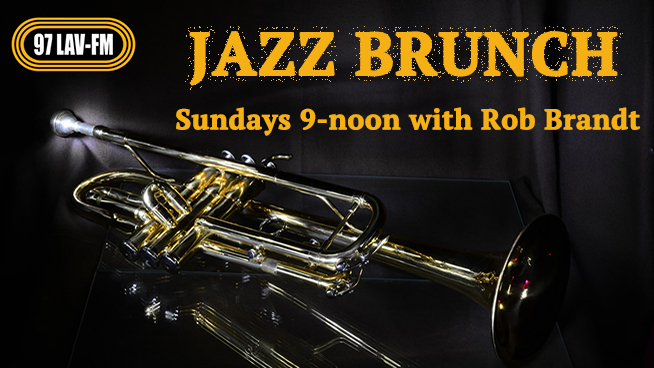 Chill out with Rob Brandt and the Jazz Brunch every Sunday from 9 a.m. until 12 p.m. on 97 LAV! Nothing goes better with your Sunday morning cup of coffee than some great jazz! You've told us you love the Jazz Brunch and we look forward to bringing it to you every weekend!
The complete performance lineup for the GRandJazzFest event in order of appearance:
SATURDAY, Aug. 18
1. Grand Rapids Jazz Orchestra with Edye Evans-Hyde, 12:30 p.m.
2. John Gist, 2 p.m.
3. Kevin Jones and Tenth World, 3:30 p.m.
4. Oli Silk, 5 p.m.
5. Lin Rountree, 6:30 p.m.
6. HEADLINER: Euge Groove, 8 p.m.
SUNDAY, Aug. 19
1. Student Jazz Band: Lushh, 1 p.m.
2. Grupo Ayé, 2:30 p.m.
3. Marcus Anderson, 4 p.m.
4. Nelson Rangell and Steve Oliver, 5:30 p.m.
For more information on the GRandJazzFest, click HERE. 
 The Shoreline Jazz Festival is coming soon, register below for a chance to win a pair of tickets! For more details see the contest page
I am a proud 3rd generation broadcaster, my father & grandfather both owned radio stations, my grandfather, Paul, owned several stations here in Michigan, my father Roger owned radio stations in Colorado & California. I first hit the airwaves when I was 13 years old on my father's A.M. station in Victorville, CA.

 In February of 2014, I celebrated my 20th anniversary on the air here at WLAV. In those 20 years, I have spent the majority of the time in the 3 to 7 pm shift. I have also hosted LAV's Sunday morning Jazz Brunch for over 18 of those years. I have had the privilege of being WLAV's program director for over 8 years. In addition to programming WLAV & hosting a daily show on WLAV, I am also the "voice" for the Huge Show on 107.3 WBBL FM & the Huge Radio Network.

When I'm not on the air, my escape is cooking, I love finding new recipes & trying them out on my wife & friends, most of the time they're pretty good! I have fairly large Smoker (it's on wheels!) Brisket is my favorite, but brisket takes a long time, so I don't get to it very often. I smoke just about everything you would normally BBQ. My pork ribs are outstanding as well as my beer can chicken! One mention on Facebook or a simple text & there is a crowd of friends at the house in short order! They bring the sides & I do up the main dish. My friend Bubba & I have worked for years at perfecting our "art". I also cook up some pretty good chili.

I have been married for over 25 years to my best friend, Shelly. We have 2 children, Mike & Reiney. We became "empty nesters" this past fall with daughter Reiney heading off to Western University to study psychology….it's kind of weird after all these years but Shelly & I are getting used to it! I also have a beautiful daughter Erica from my first marriage, she lives in Colorado.

Music is my life; just ask my neighbors who regularly get to hear whatever I am into at the moment. It may be hard to imagine but I have a pretty loud stereo…
Hear all types of jazz from back in the day to today